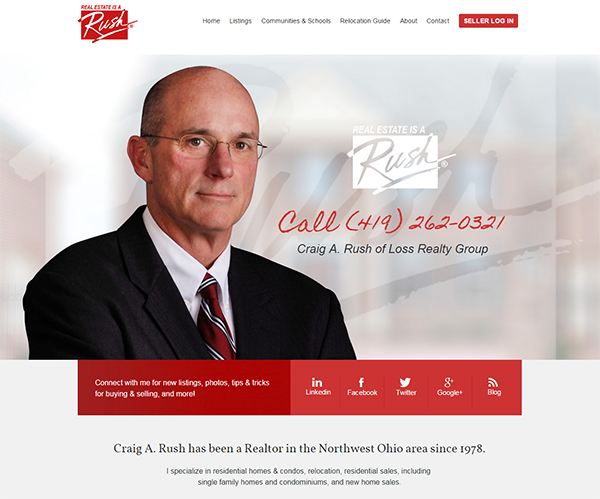 Craig A. Rush and the team are excited to announce the launch of our new website and Toledo real estate blog! Craig A. Rush's goal is to make the home buying and selling process as smooth as possible for his clients and this website is a tool to help aid in that process. Custom designed and developed by Artonic, the Craig A. Rush website has a contemporary, clean look and functional, easy to use features. Our new website now includes several features to make it more helpful for home buyers and sellers in the Toledo, Ohio area, including:
Home listing information –
Find up-to-date, comprehensive information on Craig A. Rush's newest home listings. You can filter your search based on the price, location, and property features you're interested in and browse pricing and details on each listing.
Relocation information –
Relocating to a new city can be scary, especially if you're not familiar with the area. Craig A. Rush makes it easy to go through the relocating process and provides an abundance of information to help guide your relocation. Interested in an Orientation Tour? Contact Craig A. Rush today!
Community information –
Craig A. Rush's new website contains everything you should ever want to know about the communities in the Metro Toledo area. Whether you're looking for information about community history, schools, health care, media, arts and entertainment, or recreation, you can find it on the Craig A. Rush website!
Toledo Real Estate Blog –
Here, on the blog, you will find helpful tips and tricks for buying and selling real estate, learn about living in the Toledo area, and more! If you have any topics that you would like to learn more about, let us know in the comments section!
About Craig A. Rush
Since 1978, Craig A. Rush has been a licensed Realtor in the Metro Toledo area. Craig and his team strive to make their clients home buying and selling experience smooth and enjoyable. Craig A. Rush specializes in buying and selling residential homes and condos, new home sales, relocation, and more.
Connect with Craig A. Rush on social media for the latest Toledo real estate news.
Facebook | Twitter | LinkedIn | Google+