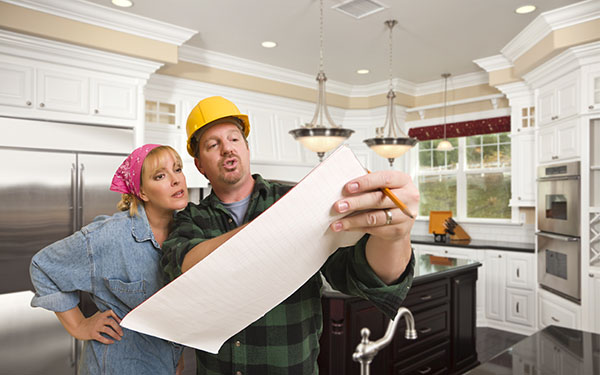 Making the decision to remodel your home can be daunting: Where do I start? How much will the remodel cost? Will it improve my home value? These are just some of the questions homeowners ask themselves when deciding whether or not to finish their basement or knock out a wall to create an open floor plan. If you're considering remodeling your home, it's important to know which improvements will give you the biggest return on your investment and improve the value of your home.
Upgrading your Kitchen
Remodeling your kitchen can be an expensive undertaking with a major kitchen remodel costing upwards of $50,000. But according to the 2014 Remodeling Cost Vs Value Report, a kitchen upgrade yields an 82.7% return on your investment. If the idea of dropping tens of thousands of dollars for a new kitchen seems daunting, you can invest in minor, more cost-effective improvements. One of the best ways to improve your home value is to upgrade to stainless steel appliances. Modern appliances are not only attractive to potential home buyers, but they also energy-efficient saving you money in the long run. Another minor upgrade to your kitchen is to remove the island. Not only does it create a nice flowing workspace between your cook area, sink, and dishwasher, but it also increases the size of your kitchen.
Modernizing the Bathroom
One of the easiest remodeling projects that can improve home value is modernizing the bathroom. The bathroom is second only to the kitchen in maximizing a return on your investment. Installing a pedestal sink and a low-flush toilet instantly give your bathroom a face-lift. You should also consider applying fresh caulk, cleaning the grout, and removing rust stains from your bathtub and shower. Other bathroom improvements to consider include updating doorknobs and cabinets, replacing the faucets, and replacing old or chipped tile.
Energy-Efficient Home Improvements
Making your home energy-efficient is easier and more affordable than ever thanks to the residential energy property credit. This tax credit is for homeowners who make qualified energy-efficient improvements to their existing home. The credit applies to improvements such as adding insulation, energy-efficient exterior windows and energy-efficient heating and air conditioning systems. Other projects that improve your home value include installing a programmable thermostat and purchasing ENERGY STAR products.
Home Improvements to Avoid
Many homeowners believe that any home improvement project is a good home improvement project, but this isn't always the case. In fact, there are a lot of home improvement projects that fail to recoup even half of the initial investment. Some remodeling project to avoid:
Rooms that don't fit the floor plan
Installing a swimming pool
Adding a sun room
Converting your garage
Wall-to-wall carpeting
While investing money to remodel your home is valuable, it's important to invest in projects that will give you the biggest bang for your buck and avoid projects that won't improve the value of your home.
About Craig A. Rush
Craig A. Rush is an extremely experienced Realtor in the Toledo, Ohio area. He's backed by an excellent team who is ready to help homeowners and home-seekers have a smooth and enjoyable buying and selling experience. Contact the Rush Team today to find out how we can help make your home buying experience a pleasant one. Give our office a call at (419) 725-1807 or send us an email at craig@therushteam.com. We look forward to hearing from you!
Facebook | Twitter | LinkedIn | Google+